About Cc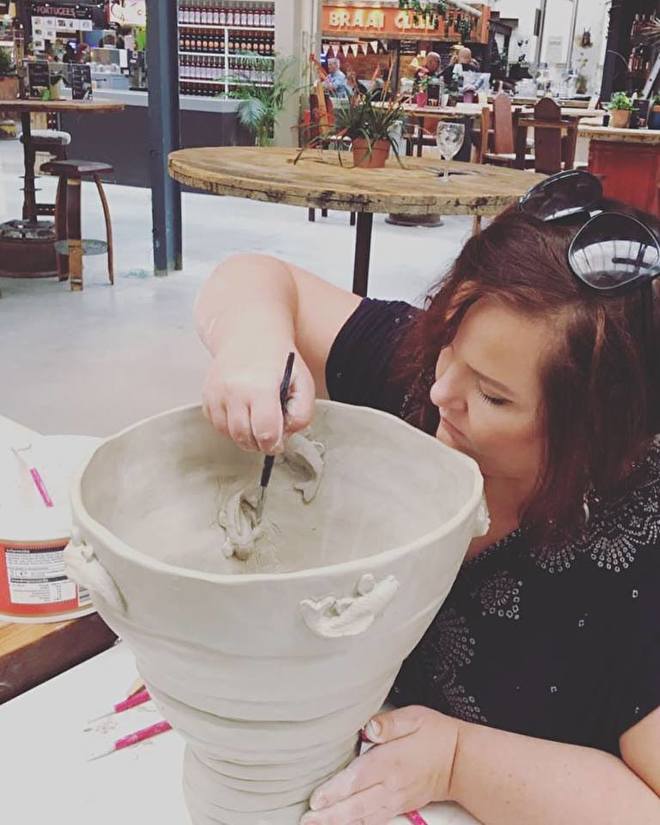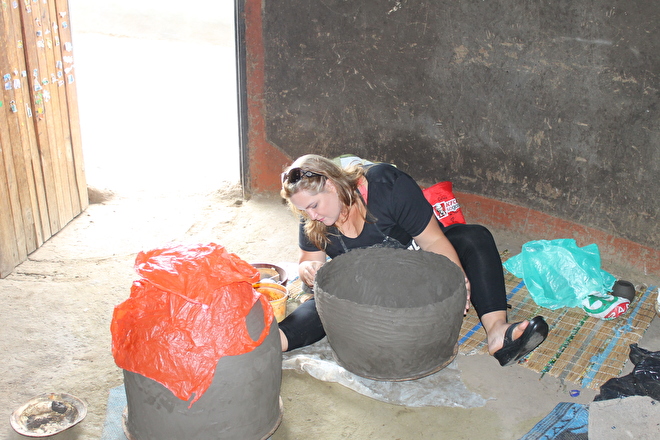 Carina Claassens is an artist who creates ceramic vases and bowls that first and foremost aim to express the natural beauty and properties of clay. Her approach is intuitive and organic, allowing her hands to act as a conduit for the natural expression of each slab of beloved porcelain as it dictates its own metamorphosis from raw clay into the immaculate vessel. No two pieces are ever the same and are handcrafted in ceramic traditions that no machine can ever replicate. Her work is influenced by a range of artists and media, most notably the textile printmaker Mark Hearld and ceramicists Artmore and Lauren Neuman. African, Native American and Chinese artforms also play a major influence in her craft. Her current work pays homage to her South African heritage through botanical imagery inspired by the flora of Southern Africa.
Carina was born in South Africa and grew up on a beautiful wildlife nature reserve. Blyderiver (Bourkes Luck Potholes). She majored in Fine & Applied Art, where ceramics was one of her majors at the Tshwane University of Technology in Pretoria, graduating in 2003.
She is currently based in The Netherlands, where she has been promoting South African visual and performing arts since 2006. Working as Curator/Artistic Director for festivals and films. In 2017 she started the popular Clay Café Nederland in Zaandam inside the Yada Yada Market located on the Hebrugterrein. www.claycafenederland.nl
Exhibition history:
2001 and 2002
~Polokwane Art Museum: Polokwane, South-Africa
~Carnaval: TuT University 2001, Pretoria, Zuid-Afrika
2003
~AISM: Maputo, Mozambique
~Johannesburg Civic Centre: Johannesburg, South-Africa
2004
~AISM: Maputo, Mozambique
2005
~Jerry's: Amsterdam, The Netherlands
~WG Kunst Galerie: Amsterdam, The Netherlands
2006
~GZ8 Galerie Zuidvliet: Maasluijs, The Netherlands
~Landgoed Keukenhof Castle Fair: Lisse, The Netherlands
2007
~Art Indaba, South African Residancy, Den Haag, The Netherlands
~ABC Treehouse Gallery: Amsterdam, The Netherland
~Grote Kerk Oosthuizen: Oosthuizen, The Netherlands
~Florence Biënnale 2007, Florence, Italy. (Launch of Memory Series)
2008
~Dolmahbace Palace gallery: Instants, Istanbul, Turkey (Launch of Audio Memory Series)
~Galerie Walls: Thrill & Suspense, Amsterdam, The Netherlands
~Artstable Gallery: South African Group Exhibition, Amsterdam, The Netherlands
~Afrovibes, Frascati Theater & Galerie De Chiellerie, Amsterdam, The Netherlands
2009
~Florence Biennale Revisted in Holand, De Bunker, Den Haag, The Netherlands
~African Millenials, Lloyed Cultural Embassy, Amsterdam, The Netherlands
~ALPOA, artSPACE Gallery, Berlin, Germany
2010
~Sketchbookproject, USA, Art House Gallery , Atlanta; Brooklyn, NY, 303Grand; Brooklyn, NY , Brooklyn Art Library; Los Angeles, CA, Art and Shelter Gallery at Saint Louis, MO,Soulard Art Market Chicago, IL,Home Gallery.
~Kunstbeurs, GROTE KERK, ALKMAAR 16-18 April 2010, The Netherlands
2011
~Sketchbookproject, USA
~Festival voor Afrikaans, June 2011. Tropentheater, Amsterdam, NL.
Other:
2007
-UbuntuArts: Curating the first group exhibition in Amsterdam of 32 South African Contemporary artist since the early 90'ties. ABC Treehouse Gallery
2008
-Afrovibes Festival: Curating "Identiteit, macht en verbinding" 9 Prominent South African Artists. Gallery de Chiellerie
- African Millenials: Curating and Organizing of Debate and Group Exhibition at the Lloyed Cultural in Amsterdam.
2011
~Festival voor Afrikaans, June 2011. Tropentheater, Amsterdam, NL. Head of PR Marketing and Graphics.
2012
-Launch of new Ceramic Design Series for CC ART'S. Focusing on porcelain ceramic design. Glazed fired to 1350'C. Using various glazes, mostly Caledon based glazes and the use of oxides and underglazes to create beautiful designs. Besides the Caledon designs, Carina is focusing on combining the old Delft Designs and more modern street art and graffiti, combining the two very different styles with unique shapes. The work is both decorative but also functional. Inspired by both South African & Benelux fauna and flora, and many everyday objects. Nostalgia is evoked and experience through each handmade piece.
2012-2013
~Festival voor Afrikaans, June 2011. Tropentheater, Amsterdam, NL. Artistic Director.
2013-2016
~AKA: Afrikaanse Kultuurfees Amsterdam, April 2016. Compagnietheater, Rialto Cinema, Melkweg, Zuid-Afrikahuis, Amsterdam, NL. Festival Director.
2017
~Designing & building new ceramic series: Blue Lily
~Day of Reckoning / Bijltjesdag: Artistic Director (Wardrobe, Set Design, Props). April 2017
~Clay Café Nederland @ Yada Yada Market in Zaandam
~Permanent exhibit of CC ARTS Ceramics at Yada Yada in Zaandam
~Art Director & Set Styling & Props building: Janieck video
~SZAHN, Keizersgracht 141, Amsterdam the Netherlands -Nov '17
Film Nominations:
Bijltjesdag / Day of Reconning:
-Nominated for Best Art Direction season award at London Lift-Off Film Festival. & Nomination for Oniros for Best Scenography and Best Costume.
-Janieq, "Does it Matter": Oniros Film Awards. Carina Claassens for Best Scenography.
-Janieq, "Does it Matter": Won the award for Best Music Video at TMFF - The Monthly Film Festival
2018
-Exhibiting at Yada Yada Market in Zaandam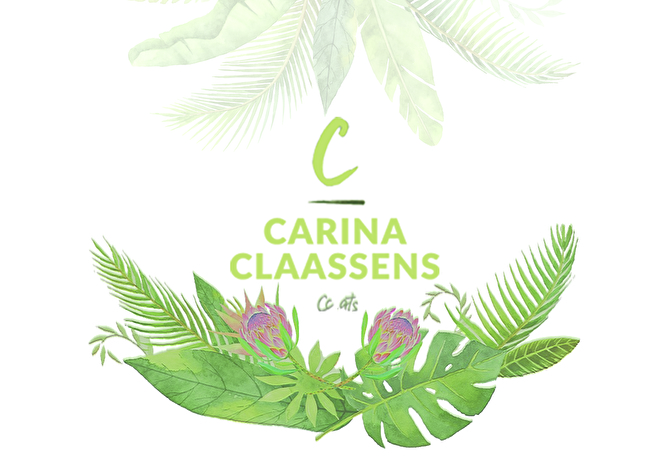 One of kind ceramic pieces. All handmade and signed with CC's potter's mark. No mass production, but each piece lovingly made by hand.